UI/UX design is no more a unique feature or a competitive edge these days, it's something vitally needed for website success.
A huge problem most of the design-development teams face is a mismatch between their assumptions and users' expectations.
You may think that visitors can easily make a purchase or change an avatar or subscribe to your newsletter, but, in fact, they can't.
The reason for their suffering and confusion is bottlenecks in UI/UX design of your website.
Fortunately, there's a super method to save your online presence — a user experience audit.         
What is a website UX audit?
There are two ways to explain it:
UX design audit is a process of assessing the efficiency of interaction between a website/app and the end user.
The UX design assessment includes a number of practices, tools, and methods aimed at revealing the bottlenecks in design and making improvements to enhance the user experience.
Auditing is important to any kind of online business at any life cycle stage, be it a post-MVP phase or a scale-up.
What are the benefits of a UX audit?
Despite a sobering fact that almost 60% of users say they will not recommend a business that has a badly designed mobile site, there're still hundreds of thousands of websites lacking UI/UX design.
That's why we recommend conducting user experience audits on a regular basis to reap lots of benefits such as:
Benefit #1. Conversion boom
Low conversions are a nightmare of any online business owner. Why is it so important?
A conversion rate indicates a percentage of users who's completed a desired action on your website.
For instance, if you received 1000 visitors yesterday and 50 subscriptions, then your conversion rate is 5%.
There's a great number of factors influencing conversion:
an appealing value proposition;
the mobile-optimised design;
intuitive navigation;
forms length;
user-friendly call-to-actions;
valuable content;
good information architecture.
While the first factor calls for a review of your business goal and strategy, the rest can be improved just by UX auditing.
With the UX design review, it's easy to reveal non-efficient call-to-actions, user flow issues, long forms, unnecessary content, etc.
Benefit #2. Satisfied users
Did you know that 86% of web surfers visiting a website homepage claim that they expected to see the info about the company's products and services?
If a user doesn't gain what was expected, the bounce rate grows and users' satisfaction decreases.
Often this happens because a creative design turns to be absolutely incomprehensible.
We recommend creating a vertical scroll, slider, carousel gallery and a menu behind the burger button which meets user expectations.
Remember that revealing the discrepancies between your goals and customers expectations will take the burden off your support team, decrease the bounce rate, and retain clients.
Benefit #3. Better brand perception
Amazingly, 94% of users abandon websites with outdated web design.
When we say "outdated we mean intrusive pop-ups, dead links, the overuse of parallax and stock photos, multiple fonts and brand colours.
It was great in the past, but now they annoy and distract. Not to mention of non-responsive and non-mobile-friendly design.
While some issues such as the burger button can be easily solved, others such as mobile-friendliness require a complete redesigning.
Benefit #4. Higher ROI as a bonus
The last but not the least, UX assessment almost always leads to an increased return on investment, ROI of user experience to be exact.
Where's the correlation between user experience and your business performance?
Well-thought-out user flows, easy buying or subscribing procedure, visible and accessible CTAs — all these increases conversions and cuts down support calls.
Professional UX audit coupled with the right metrics helps to identify users' challenges and map out the ways to overcome them.
To sum up we're confident that investing in UX design audit is going to take your business to the next level.
When and who should do a UX audit?
The design process is cyclical and every stage should presume UX assessment.
No matter either you're going to extend the functionality of your platform or create new user flow, don't skip the auditing step.
You can make a usability audit on your own as long as you have proper expertise and skills.
Otherwise, it would be better to turn to professionals: UX design reviewing agencies or freelance auditors.
During the assessment, you can interview both parties:
the product team represented by a designer, coders, customer service guys, salesmen;
regular clients and random visitors.
How to make a UX audit more efficient
At the beginning you should answer the following questions:
What is the purpose of UX audit?
What is the value for the users?
How can you evaluate the result?
What tools and resources should you use to introduce improvements?
To make it easier for you, we collected some tips on how to audit your user experience.
Tip #1. Get ready
There's nothing worse than doing useless things.
Before you rush to identifying unfriendly areas of your site think what you're going to improve and for whom.
You may be reviewing separate elements of the layouts such as buttons, links, forms or the whole user flow, for instance, an account creation.
It's good if you decide to check the main pages first and then you can proceed with the rest.
We recommend considering the target audience. You must have a clear understanding of who your target customers are what pain points they have in order to offer a win-win solution.
For example, a website for generation Y may be different from a platform for baby-boomers since each target group has their own preferences.
Tip #2. Take charge or delegate
We've already mentioned that the auditor may be someone from your internal employees or an outsourced UX team.
Even you can take this great responsibility. In case you decide to rely on your abilities, you're going to save money and gain new experience.
A product team, as a rule, is well-versed in the product, its functionality and features, but it may be very time-consuming.
We recommend hiring professionals in this area. It will be quick but at the same time more expensive.
Tip #3. Tools do matter
The tools you apply should deliver real benefits from a UX audit:
be flexible;
analyse the given information;
measure specific cases;
reveal bottlenecks;
give recommendations.
UX checks are usually paired with usability testing and site performance analytics.
There's a great variety of usability testing tools over there to help you enhance your UI/UX design.
Among the best-known are Crazy Egg, Optimizely, Usabilla and User Testing.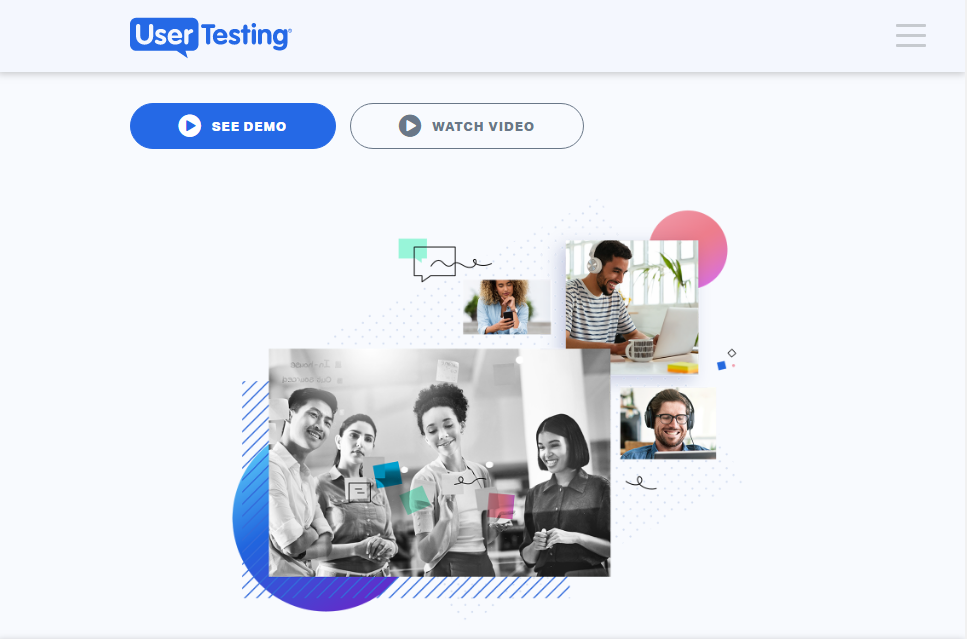 With usability measuring software, you can:
analyse users' behavioural patterns;
get feedback from the audience;
improve the design and content elements.
These methods let you understand how people interact with the interface of your website, what elements draw their attention, where you lose prospects, etc.
When you create a toolkit for auditing don't forget about interviews.
Asking real people or experts who have interacted with your digital product or service can bring valuable insight.
Tip #4. Organise like a guru
As soon as you start checking, tons of files will fill up your storage.
In order not to lose valuable information, make screenshots of every page, layout, and design element that is being checked.
We suggest adding a detailed description, comments, and recommendations to every screenshot.
Save all the screenshots in folders dedicated to a certain feature, interaction or product, in other words, categorise everything.
Once you're done you need to review all the results to make a report and share it with your team.
A typical UX audit report includes:
the current way of things;
the outcome of usability testing;
recommendations for improvements.
How we do it at JustCoded
UX audits that we conduct are normally NDA protected, however, we can still explain our approach.
Recently we've conducted a UX audit for one of our clients from London who has a website that attracts and employs students through international programs.
While the website was more or less okay visually, the client complained they had a really low conversion rate. Before we agreed to redesign their site, we conducted a tech review and UX audit to detect the bottlenecks and suggest solutions.
Our findings
The website largely depends on images and text, and the number one problem was poor readability caused by a number of factors:
heavy text shadows;
problems with icons;
too many different colours;
issues with navigation bars.
Our solution
We suggested our customer make a website redesign: adhere to the same style on all pages of the site and change fonts.
Our designers visually divided all the information into several blocks. This approach helped remove indentation problems and fill the empty space with information.
Ultimately, the сlient has approved all of our suggestions and now we're in the process of improving the UX.
UX audit deliverables
In general, our design team evaluates each web or application page, pointing out flaws or obvious problems.
We create a separate document with detailed descriptions of our analysis. Here's one of the pages of the UX audit that we carried out for our internal product.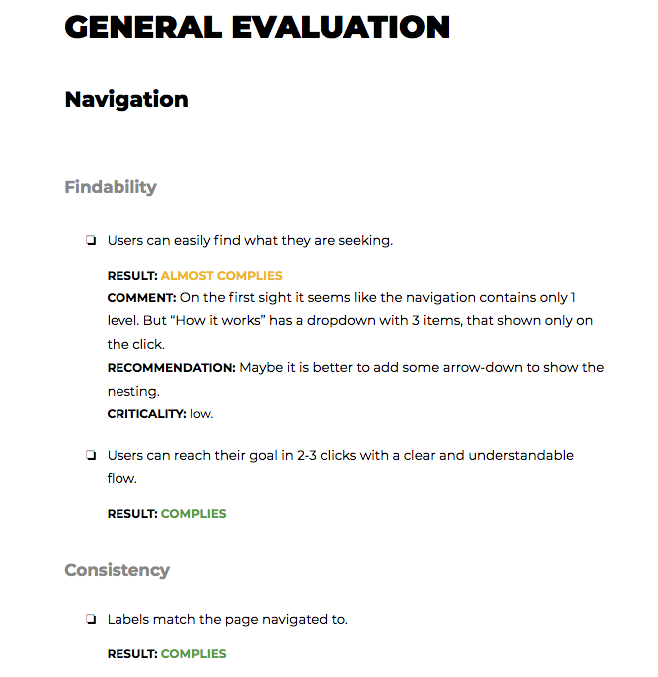 In the end, we collect recommendations for improving or eliminating problems with visual examples.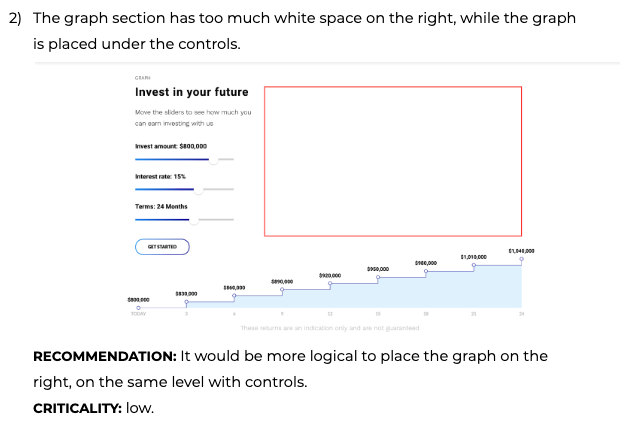 A few tips before you go
UX auditing is an accessible and strong method to understand what's wrong with your websites or application interface and how to make it better.
No matter either you'll perform it on your own or hire an auditor, follow the below tips:
Set the goal, an object and assignee;
Use different auditing methods and tools;
Classify the assessment results and share them;
Make a comprehensive report.
If we've not mentioned something valuable or you'd like to extend our tips list, drop a comment below.
We hope that our article has helped you and your team. Feel free to drop us a line any time.